It is that time of the century when Augmented Reality is a part of your daily lives from planing to medical sectors? The answer is yes, but the challenges are many. For a quite period of time, there's been considerable interest in smart cities, when there is really no universally accepted definition of smart in a city.
The ultimate aim is to transform the urban landscape with improved citizen services and a better lifestyle to its dwellers. In need of transforming the ambitious plan into reality, governments, urban planners, engineers, and architects are collaborating with the new-age digital technology. Technologies like Big Data, AI, IoT, and cloud have made the AR an initiative success. The idea of combining Augmented Reality with smart Cities will improve people's self-reliance and decision-making strategies.
Augmented Reality is known for being an interplay of data, graphics, audio, and other types of sensory enhancements that are presented in a real-world environment displayed in real-time. The augmented reality has the potential to play a huge part in smart cities and requires very high-speed data-connectivity. 
Imagine the residents in distress have plotted their locations and visualized the safest rescue routes informed by real-time disaster data from the disaster management team. Public workers can easily identify potential hazards at the works and can repair them relevantly. Several startups have already created AR tech with these capabilities for day to day city applications.
Blippar's AR City mobile app embeds directions as well as information about local restaurants, hotels, and other city landscapes. A motorcycle helmet from BMW visualizes routes guidance and flashes warning about roadwork into riders' vision. White Raven's AR connected vehicles display info on the nearby entertainment and retail offers as the driver passes by. AR smart City mobile app provides unique interactive augmented reality having public services like streetlight control, parking management, solid waste collection, video surveillance, and public Wi-Fi can be managed and controlled from a single app- making cities cleaner safer and more livable.
Google Maps Live view is a good example of AR navigation and uses visual positioning, street view, and machine learning to your selected location. The app recognizes solid, stationary objects like buildings and shows that need placing signs in the camera view.
AR for roads and highway engineering is a useful technology to detect road failure and accidents. Having proper and derivative information about current road conditions, structures, and underground infrastructure will provide timely solutions. The augmented reality makes sure about appropriate measures in place when fatal emergencies arise. Integrating AR technology into a smart work zone will provide greater assistance and support for the common people.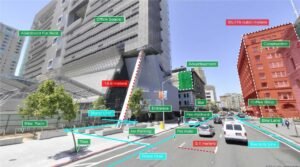 Other different types of technologies building smart cities are:
5G Technologies: The next level of connectivity for industries and society.
Internet of Things (IoT): Keeps everything in the city connected and allows each movement and connects each dot. It offers advanced connectivity of smart devices, wearables, smart homes, appliances and services, medical devices, smart entertainment, smart buildings, smart public mobility, smart city infrastructure, etc.
Geospatial Technology: Right technology for building urban planning for smart cities with accuracy and analysis with the help of detailed data. It provides an underlying foundation upon which every smart city solution can be built.
Artificial Intelligence (AI): The vast amount of data generated by a smart city would be useless using artificial intelligence in order to generate information and value. AI processes and analyzes data generated in context to smart cities, smart stores, and city infrastructure.
Robotics: Human robots are new collaborations with augmented cities, work, social life, and health in smart cities. Robotics in urban spaces is rapidly transforming some technologically advanced cities.
Augmented reality has become increasingly widespread and now are capable of providing the best experiences for interacting. Your smartphone or devices are the cheapest and convenient way to view the augmented reality world.
Don't Miss: Augmented and Virtual reality- superimpose images on the real world (AR) or bring users into an artificial digital experience (VR) in the form of Pokemon games, Snapchat lenses, gaming headsets, and more. AR and VR have practical uses for city government with the ability to provide data in real-time, engage users, and simulate real-life experiences in detail.
To know more about Architecture Technology, Stay Tuned. 
Previous Coverage: