The 'Green school' in Ubud, Bali has proven to be an inspiration for a global renaissance for cultivating one of the significant trends in the architecture of this century. The school emphasizes its use of Bamboo architecture which is considered as one of the most efficient materials for a sustainable future.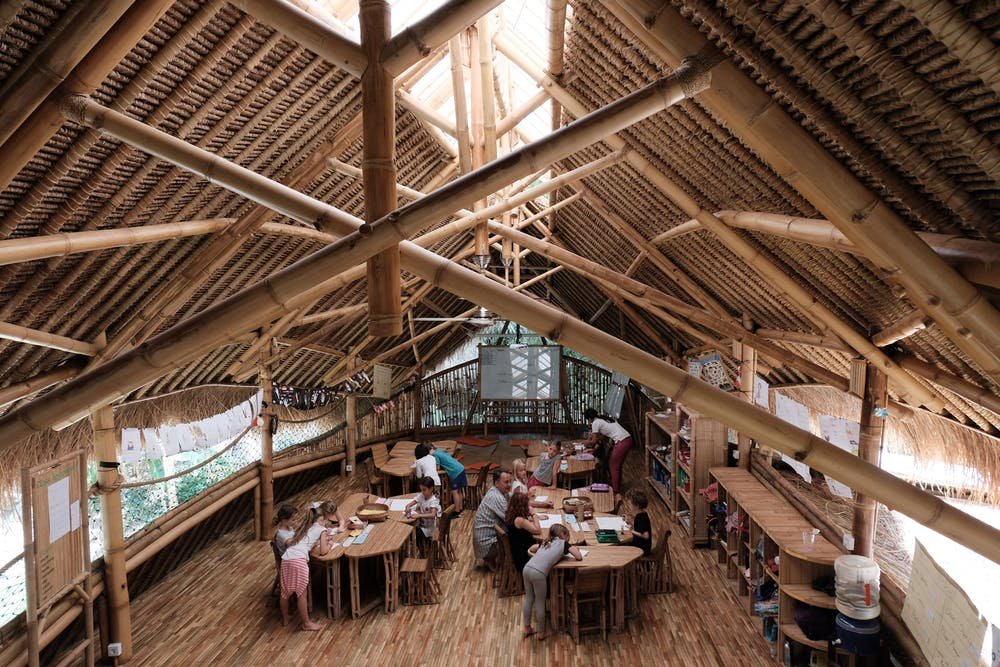 The school is set in a tropical jungle campus which has these quirky Bamboo pavilions that have managed to catch the eye of a global audience. Bamboo has been the oldest vernacular building material in the tropical latitudes. But for many years it was being used for temporal purposes for inexpensive shacks, fences, scaffolding, or stalls. The bamboo used in its raw form has many restrictions as it is highly susceptible to fire and natural degradation as well. Even insects and fungi rapidly grow and devour on these sugar-rich saps that are inside the canes.
The Irish-Australian Designer Linda Garland pioneered the use of Bamboo with contemporary methods in Bali. She worked and researched to create a commercially viable building material from Bamboo.
Today Bali's Green School is at the forefront in building geometrically irregular structures by using contemporary methods on vernacular materials. These new structures are environmentally friendly and use digital modeling for manufacturing their prototypes. Asymmetrical architecture is now possible due to these advancements in technology.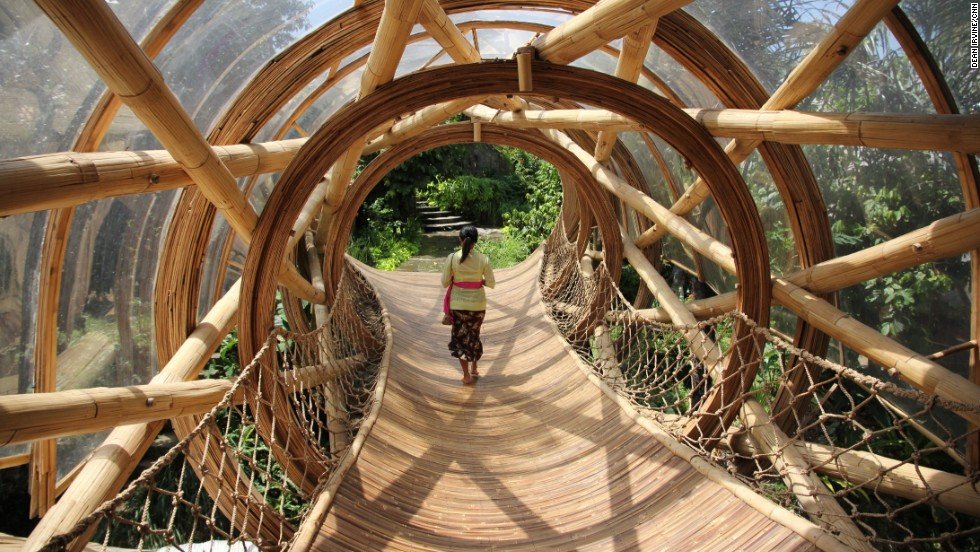 The Green School
The school educates more than 500 students from pre-school, kinder garden to the high school students. The school has a curriculum of its standard subjects along with a blend of practical tasks and projects that help in building a healthy and ecological environment. The structures and subsidiary buildings are constructed by the teachers, students, and their parents. These structures are sustainable and are used as amenity spaces on the campus.
Hardy's and their international team of Bamboo experts are responsible for making most of the school's buildings. Ibuku is its landscape, interior, and architecture design company. Apart from the classroom spaces, they have also created yoga and cooking school pavilions, houses, hotels, restaurant interiors, and permaculture gardens. The firm is actively involved around Bali and in other Asian cities.
The firm also provides hand-on training for potential builders. These courses cover Bamboo selection, treatment, modeling, design, and on-site fabrication.
Bamboo Architecture
Bamboo has been a globally accepted material for its feasibility in construction as well as its sustainable returns. Many design tinkers have started rethinking this material and using it to its optimum potential. During the Green School's first decade, studios for Bamboo architecture were led by many Asian architects. Vo Traing Nghia, H&P Architects, Chiangmai Life Architects, Bambaroo, Abin Design Studio, Mansaram Architects, Bambu Art, Atelier Sach Cotture, HWCD, Penda, William Lim were a part of this initiative.
Many other internationally renowned architects like Shigeru Ban, Renzo Piano, Foster + Partners have made significant structures under Bamboo.
Meanwhile, the Green School has planned to expand from Bali. An associate campus is said to be opened next year on the west coast region in New Zealand's North Island. Here Bamboo is not naturally grown or legally used as an architectural material. The design of the Green School is envisioned to be centric towards using local species of Pine. Unlike the Bali Green School with Bamboo pavilions, the New Zealand Green school will have Pods on poles as aerial classrooms. The idea is to establish Green School prototypes that are relevant to the sustainable aspects of a specific region around the globe. The core criteria of all these schools will be to have sustainably viable spaces for learning and nurturing.
This will be a step forward in the architecture of educational buildings as sustainability won't be just a part of the textbook but all around!