"The home is where the heart is". This thought resonates with me. Your house is a reflection of you- your tastes, habits, likes, and personality. It reveals a lot about you. Designing your house requires an ample amount of time, effort, patience, and perseverance. "Rome was not built in a day" nor will your beautiful home be.
Everyone has a vision of how their abode is meant to be. But realizing it is the tough part. Vague ideas won't get you far, hence a few Dos and Don'ts for the journey.
Getting Inspired
Coming up with a basic vision
Think carefully and deeply about the houses that you fantasize about. What is it that invokes the awe in you?
Look through various architectural publications
Helps you in figuring out whether you're a boho-chic, vintage, European cottage, or modern sleek house kind of person. Due to evolving tastes, various outdated styles are making a huge comeback. Also, just because something is fashionable doesn't qualify as good, what matters is the one that speaks your sensibilities.
Touring the neighbourhood for houses that ignite your imagination
Taking notes on what you love about a certain house and also checking out for solid no's in your home. It is necessary that you know what you absolutely wouldn't want in the house.
Taking photographs for later and further perusal
Whatever catches your eye, just whip out your phone and snap it. Later, in the peace of your house sit and see through the pictures and let the details sink in. photographs are the best reference materials.
Organizing and Streamlining Your Ideas
Rather than asking "How much will my dream home cost?" ask yourself "How much is the house I can actually afford?" Helps in the reality check and keeps the visions clear.
Maintaining a Design Diary
This diary helps you keep your doodles, sketches, and musings in one place. You can paste photos, maintain contacts, doodle details, or keep track of the various other details of the project. It helps you in being efficient and doesn't let your thoughts scatter away.
Knowing the individual needs
Space, privacy, building techniques are a few determining factors. The availability of options calls for the need to zero down on your needs. To determine a living space for you will require you to list down the number, age, and relationship of the occupants. You subconsciously look out for things you need, its just a matter of time before you mark out the non-negotiables.
A list of essential features
Under each room, make a list of things you just need to have. It may be your kitchen islands or a particular couch you liked, it could be the stereo system you liked or the bay windows you saw. This is the best part. Running your imagination and creativity wild, write down anything and everything that just tickles your fancy and is a must in your home.
Sealing the Deal
Finding the best location
Your house needs to settle in the surroundings and you need to have a broad overview of the area you wish to build your life. The neighbourhood is a huge deciding factor. It influences and nurtures you and your life. Also, accessibility to grocery shops and medicals shops, schools, hospitals, gas stations, and your office. Every angle needs to be checked, measure, and thought thoroughly before you choose a site.
Finalizing your level of work, its time your plan sees the architect. Your part of the design is knowing what you want and standing by it. Their duty is to help you get your dream home whilst saving you from the perils and complications of design traps. The architect will help you with the structural integrity, local building codes, suitability of the surrounding property, and other practical matters that you wouldn't know to ponder on your own.
Go find you a building team
Now that your plans are sealed and gone over by an architect, you're all set to build your dream home. A little last moment changes might arise, but nonetheless, your dream home is on its way to becoming reality.
Common Mistakes
It is way more important than we presume. Its understandable to be way more excited about your master bath than a linen closet. But never underestimate the power of these closets. They help your rooms look way organized and neat. It's like the supporting cast of your design.
Ignoring secondary bedrooms
We tend to spend a lot of time planning the master bedroom and forget about the secondary bedrooms completely. If they have an awkward layout or are not close to the bathrooms it could negatively affect your way of life.
Drawing the line between needs and wants
Unless you have an unlimited budget, there is a requirement to draw the line. It's necessary to categorize what you absolutely need and what you want. It's sometimes okay to settle and compromise or even add on later. Don't overdo things.
Architects call a design good if it has a "flow". It is the ease of moving from room to room. It seems like a minor thing (or some architectural bloop) but it does affect your way of living. For example, having your bedroom close to the entrance or having to use a staircase to get to the bathroom or passing someone's bedroom to use the loo.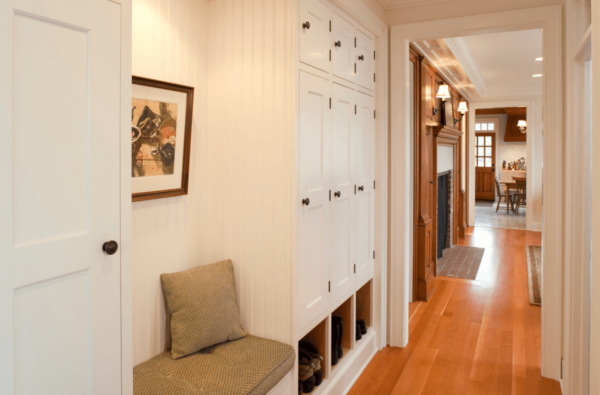 Open concept homes are bright and airy. Everyone loves an open plan, but then how do you define places? Simple, using the flooring, cabinets, and furniture. This way, we manage the flow and maintain the vibe too.
Now, you're all set to make your dream home a reality. Remember, "Home is where the heart is".