Fashion and Architecture are connected; they both intend to make shelters for the human beings. Architects, as well as fashion designers, aim to create perfect, comfortable and beautiful forms for the human body. Yet, there are some key differences amongst the two fields, such as the duration; architecture is timeless whereas fashions lasts. Fashion depends on marketing and consumption while architecture is monumental and eternal.
The concept of Fashion and Architecture
Art is the foundation of the two worlds. Art is the as base of the professions and science and technology leaders them to be more inventive and innovative.
Art
Art is the expression of emotions. Architects use building forms to express the feeling that they have. Lines, colors and forms of the buildings are used to transmit these feelings.
Whereas, fashion designers, use garments as a way to communicate with other people. They convey their feelings through their designs of clothing. The same feeling should be felt by the users, wearing their clothes, as they had when they designed them. The beauty of form, idea and expression which are the highest aim of art is clearly seen in clothing.
Science and Technology
With the help of science and technology, the fields of architecture and fashion has attained a level of innovation that could only be imagined just a few decades ago.
Evidently, in the field of architecture, technology has made designers more creative and brave to design mind blowing buildings, in terms of structure. Materials, with the help of technology is getting smarter, lighter and stronger.
A new era began in the fashion industry, with the emerging use of new technologies, irregular material and electronics. The term wearable, wearable computing, wearable technologies, smart clothes, smart fashion, interactive wear and electronic dresses refer to functional electronic objects integrated into clothing.
New materials are getting featured on the skins of buildings and humans. One such example is of Media Façade. Media façade is created with small LED lights and can picture anything that is on the mind of the designer or user. On façade of the buildings the LED lights reflect the natural light and at night by the help of the computer program it gives the color schemes wanted by the user. In the field of fashion, Hussein Chalayan created a garment that is made of LED that is normally have been used for advertisements.
Architecture and fashion have a common ground on various factors. Art, science and technology and also on the materials. But these fields are not only common, they are continuously inspired from each other. As architecture provides us a space to live in, fashion gives us wearable art we look good in. Fashion designers with history in architecture, incorporate architecture elements, like elongated proportions and strong silhouettes, and design details in their apparel. Architects have helped designers or have become designers, similarly, designers have also influenced architects for their buildings.
From classic church interiors to cutting-edge skyscrapers, fashion designers often take inspiration from architecture.
Exaggerated proportions, structural design-lines, plunging angles and particular attention to geometric figures and construction are inspired by fashion designers. Three dimensional-architectural looks are often manipulated by pleating, folding and layering the fabrics.
Zaha Hadid , a legend in the field of architecture, had a huge interest in fashion too. She worked with high end brands to create from jewelry, shoes to handbags. Her signature style of fluidity, sweeping lines that defied gravity was not limited tot architecture. In the fashion world, she managed to leave an impression of herself and worked with Adidas, Georg Jensen and Melissa, among others.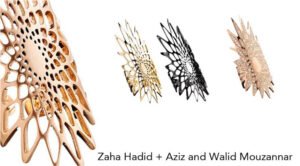 Yasutoshi Ezumi,  has been referencing to works of famous architects such as Frank O Gehry, Eames and Matta Clark since 2010. Inspired by Frank O Gehry, making structures of papers freely,  in his documentary, as architecture models was like fashion draping to the designer. So he did same for the collection of Spring/Summer 2016.
There is a parallel relationship and interrelationship between architecture and fashion. Both fields are constantly changing in taste and styles although in their own times. They are affected by time, culture and society. Both fields constantly inspire and guide each other at the same time and leading the world to more innovative and inventive places to live in and clothes to fit in.