Architecture is a multi-disciplinary field with subjects ranging from master planning, landscaping, urban design, interior designs, and many others. The outreach of this profession is far and wide. With such a variety of fields to expertise, it is hard to accommodate this knowledge in the form of a fixated textbook. As architecture is all about experiencing spaces and studying spaces, different architecture books can come handy to explain this vast subject in detail. With architectural writers and researchers, a huge amount of material is available in architectural education. However, the classics never go out of time.
Below is the list of some of the classics in architecture that have proven to be noteworthy and resourceful for both students and professionals. Refer the list to have some captivating reads that will leave you inspired.
Towards a new architecture/ Le Corbusier
This book consists of an essay by the famous architect Le Corbusier. He expresses his views on the nitty-gritty of the industry by adding the aesthetical and technical theories behind spaces. He explains the connection between form and function. His narratives are a true picture of modern architecture. The book is illustrated by line drawings and photographs of Corbusier's own work.
This book has proven to be a true inspiration for readers due to its unique ways of approaching architecture.
Architecture: Form, Space, & Order/ Francis D.K Ching
This is a classic mandate for every architecture student. This book introduces the basic vocabulary of architecture with new trends. It demonstrates the concept thoroughly with the help of illustrations. The abstract concepts are conveyed with clear ideas in it.
The narrative acts as a guide book for every architecture student.
Yes is More. An Archicomic on Architectural Evolution/ Bjarke Ingels
This book is a blend of architecture and comic books. The author Bjarke Ingels wanted to be a comic artist but later switched to architecture. This book has managed to be an unconventional breakthrough in the history of architecture books.
BIG's practice has been a breakthrough and unconventional in many ways. His radical practices have had a global impact. Ingels comprehensively explains his philosophy to create spaces that are socially, environmentally as well as economically viable.
101 things I learned in Architecture School/ Matthew Frederick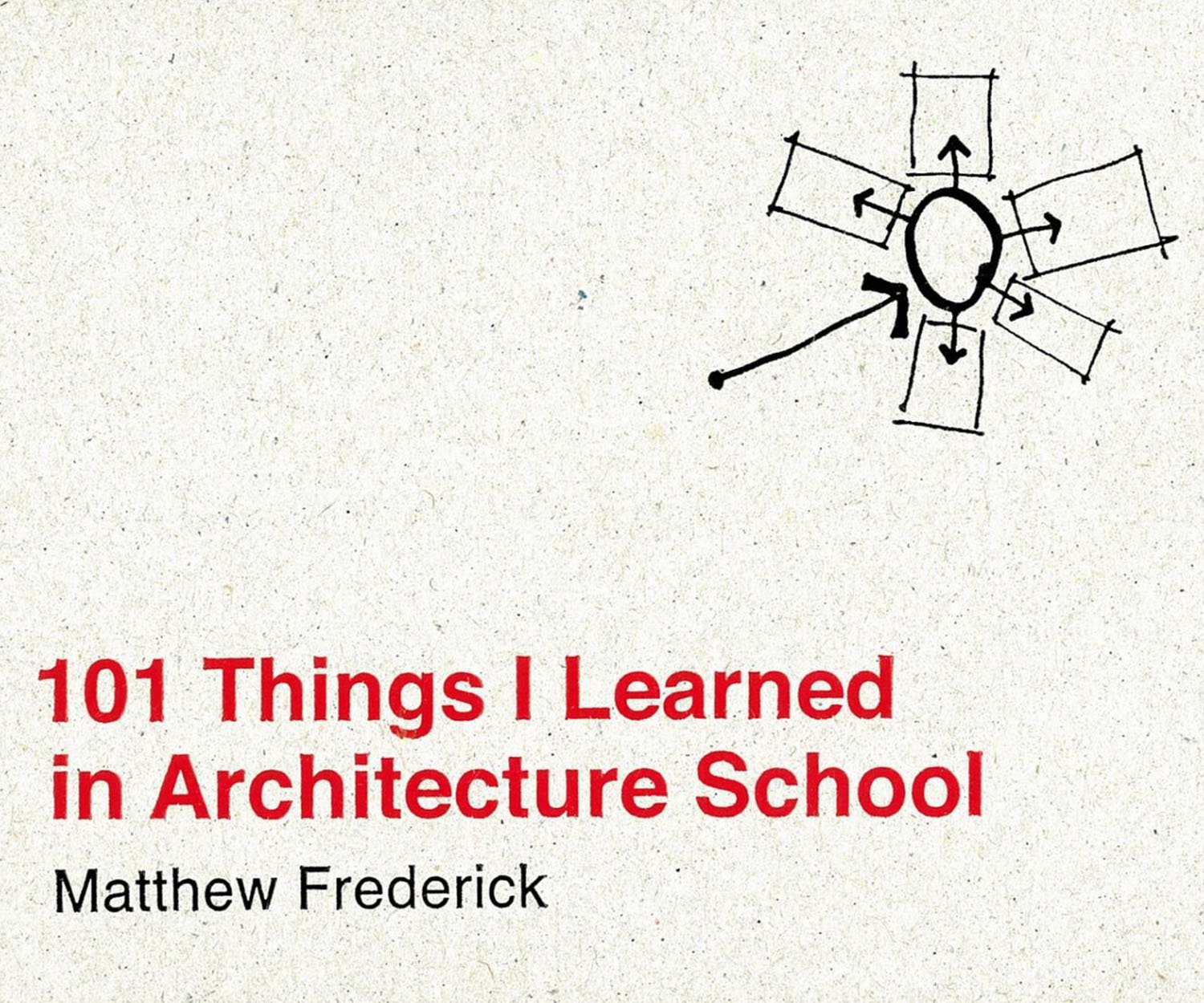 This book is nostalgic for every architecture student as well as professional. It manages to capture concise lessons in architectural design, drawings, and presentations.
The Fountainhead/ Ayn Rand
Architect Howard Roark and Rand's philosophy forces you to think deeply about the honesty of your practice. It questions everything with authenticity.
S, M, L, XL / Rem Koolhaas, Bruce Mau, and Hans Werleman
This book includes some noteworthy design works by OMA. Rem Koolhaas and designer Bruce Mau produced photos, projects, sketches, poetic writings, critical essays on contemporary architecture.
The Ten Books on Architecture/ Marcus Vitruvius Pollio
Considered as one of the oldest and the most influential work on architecture. The ten instructions given in this book were followed faithfully in all parts of the world.  His book is one of the rare works that have proven to be supremely important in the creation of some of the greatest works and masterpieces.