The Nippon Foundation has launched the Tokyo Toilet Project to challenge negative perceptions about public conveniences with 16 designers. The ideology is to make these places convenient to all age, gender, and disabilities.
This project comprises 17 restrooms across the city of Shibuya, Japan. Many other architects like Nao Tamura, Masamichi Katayama, Shigeru Ban, and several others have been a part of this project.
Shigeru ban's transparent toilets with an exterior glass that turns opaque when locked
Project Name- Yoyogi Fukamachi mini-park and Haru-no-Ogawa community park
Location – Tokyo, Japan
Designed by – Shigeru Ban
Shigeru Ban has been one of the most innovative contemporary architects. With his works revolving around exploring different materials and their strengths, this architect is all about his eccentricity towards buildings.
This Japanese renowned architect has completed two public toilets under the Tokyo Toilet project. His design is centric towards cleanliness and security, as these are the two main factors we consider while entering into a public facility.
Shigeru Ban has collaborated with a unique technology that turns the exterior glass opaque when the doors are locked.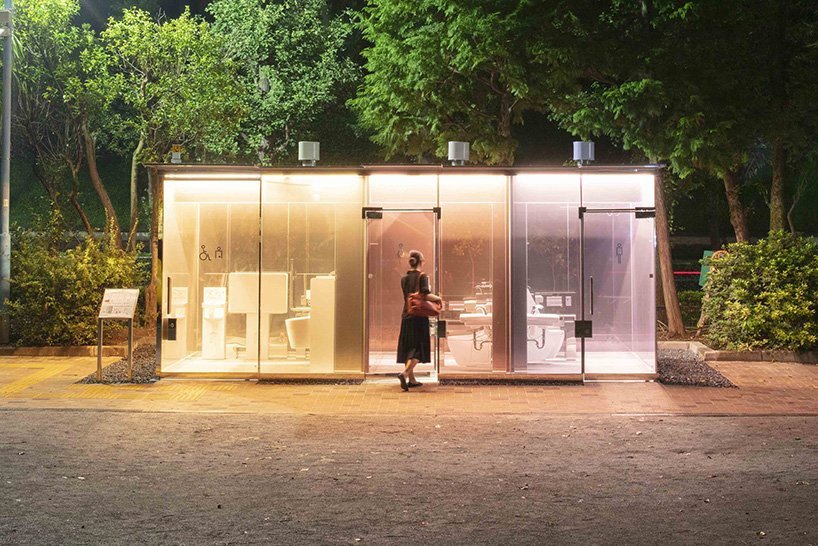 This concept in turn allows the user to check the hygiene and cleanliness of the toilet from far itself. It even allows us to check if the stall is occupied or not. The transparency illuminates the nearby park area during night time.
The spaces inside the have three cubicles composed of men, women, and an accessible facility bathroom. The colors of the glass match the hues found in both the parks.
Fumihiko Maki's 'Squid Toilet' with a courtyard and curved roof
Project Name-Squid Toilet
Location – Tokyo, Japan
Designed by – Fumihiko Maki
This design is a part of the Octopus park, which is a popular place within the localities to visits. The architect envisioned this toilet design to have a pavilion-like building, as he wanted this toilet to function both as a restroom as well as a public space that has a rest area within.
The central courtyard allows ample light within the indoors. The curved roof provides ventilation and natural light.
Fumihiko Maki says, 'Thinking about a variety of users, from children to people on their way to work, we wanted to create a safe and comfortable space that uses a decentralized layout to allow for good sightlines throughout the facility.' 
Nao Tamura's all-red public toilet
Project Name- Triangle Tokyo Toilet
Location – Tokyo, Japan
Designed by – Nao Tamura
This New-York based designer has also been a part of the Tokyo Toilet project with a toilet design on a small triangular plot. The main concept behind his design was to make a space that is accessible to all parts of the society irrespective of their age, sex, religion, or ethnicity.  
Nao Tamura Says,  'Living in new york, I have been privileged to witness the LGBTQ+ community living in alignment with their sexual identities,' Tamura continues. 'As I designed this public bathroom for a small triangular lot in Shibuya, I envisioned a society that embraces the LGBTQ+ community and holds space for them to live their truth.'
Wonderwall's toilet with interlocking walls
Project Name- Modern Kawaya – Tokyo toilet
Location – Ebusi Park, Tokyo, Japan
Designed by – Wonderwall/Masamichi Katayama
This concrete structure has been in such a way that it forms an unconstructive format within the site. They wanted it to be a playful form that gives a casual vibe to it.
The title 'Modern Kawaya' is derived from the Neolithic huts that had a primitive and simple design which were made from hardened soil and wood pieces bounded together. The walls of the structure are made up of concrete and they are placed in an interlocking manner.
'Trying to envision the appearance and atmosphere of the primitive Kawaya of the past, we built an 'ambiguous space' that is simultaneously an object and a toilet by randomly combining 15 concrete walls, the spaces between the walls lead users into three different areas designed for men, women, and everyone.' explains Masamichi Katayama.
All the Public toilets under this project will be constructed under the supervision of Daiwa House Industry co, Ltd. Toto Ltd is looking after the advisory for toilet equipment and layouts. The designs are small in scale but give out a thoughtful message to increase communal awareness.