Project – Jiuzhou Bay
Client – Zhuhai Jiuzhou Bay Holdings Group
Design – Skidmore, Owings & Merill
Location – Zhuhai, Guangdong Province, China
SOM designs a new waterfront development for China's most liveable city, Zhuhai. The vision is to create a low-carbon waterfront community in the tech hub of Pearl River Delta. The sculptural canopies inspired by the city's maritime history create a lively development.
Zhuhai has established itself as an eco-conscious city. It connects Hong Kong and Macau via the longest sea-crossing bridge. It named the most liveable city in China by the Chinese Academy of Social Sciences. Zhuhai plays as a strategic location to cater to the growing tech hub which might soon be a rival to Silicon Valley.
Skidmore, Owings & Merill (SOM) was selected from a list of 10 design firms that were shortlisted to create Jizhou Bay, a 5.6 million square foot of mixed-use neighbourhood. It visions to house offices, residences, infrastructure, and retail.
The design includes a robust transportation hub that offers connections in the land, water, and rail for more than 40 acres. It sets new standards for public transit in the region. The modular canopies are one of the highlights of the project. These five modular canopies envelop three sides of the port with a landscape of towers that are connected by a series of covered pedestrian alleyways with a lively retail environment. The interlinked courtyards along the water promenade add an aesthetic feature to the set-up.
"The forms of the canopies are inspired by the local legend of the Fisher Girl and reflect the fishing nets commonly seen on the coastline throughout the region. We wanted our design to resonate with the culture and history of Zhuhai, and to evoke a story that's familiar to everyone who lives there.", said SOM Design Director Sean Ragasa.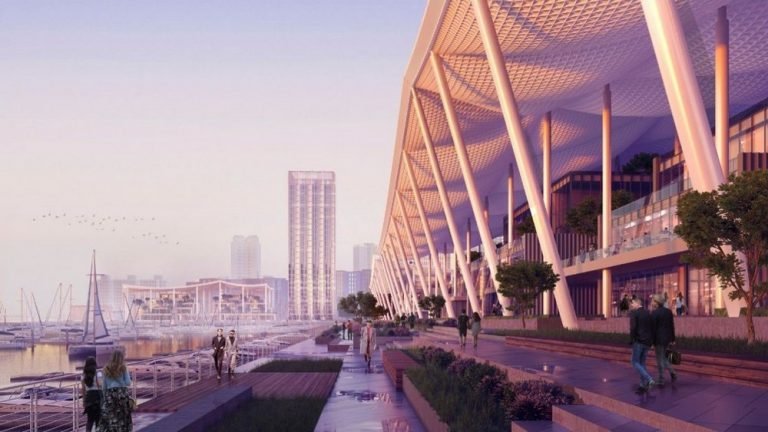 A 1045-foot-tall tower is centric in the neighbourhood inspired by the form of a lighthouse Fresnel Lens. The tower comprises of office spaces with a sky bar and observation deck. A 20 story Ritz Carlton Hotel is topped over the 35 floors of office spaces. A vertical atrium offers views of the bay from the diagonally bisected façade that peels open the interior towards the exteriors.
The new neighbourhood also follows green design principles, by consuming infinite resources like the sea and the sun. The design visions to reduce the use of natural gas, energy consumption, water conservation, etc. The canopies also increase the building efficiency by harvesting energy, filtering daylight by the use of photovoltaic panels, and capturing rainwater. Due to their sustainability principles, the interior comfort of the buildings is also optimized to allows better usage.
The design segregation also helps in keeping the neighbourhood alive 24×7 with residents, office workers, nightlife seekers, etc.
SOM has beforehand designed many mixed-use projects globally including the World Trade Center in New York City, Burj Khalifa in Dubai, Guoco Tower in Singapore, and many more.
Project Size
Area: 40 acres
Ferry Terminal: 327,300 square feet
Port Site Area: 1.8 million square feet
Office: 1,643,100 square feet
Bus Station: 173,900 square feet
Service Apartment: 1,304,800 square feet
Residential: 1,020,900 square feet
Hotel: 573,300 square feet
Retail: 588,000 square feet
Sustainability: Atelier Ten
Landscape: SWA Group
Lighting: Francis Krahe & Associates