Apple Silicon has introduced its new chipset so-called M1 Ultra, the most potent piece of the bespoken chipset that Apple has ever made in its history.
This chipset was unveiled during the Apple event, held on 8 March 2022; the M1 Ultra is a mighty SoC (System – On – Chip). Apple claims that M1 ultra is basically to M1 max chip combined using a previously "hidden feature" of the Max: special die-to-die.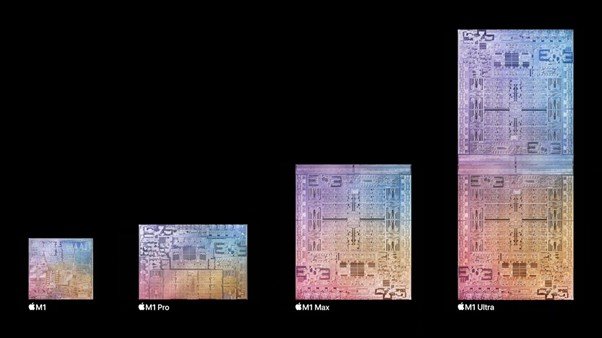 The interconnection tech that lets the chips combine is all at its new height with lots of high power, and completing all the M1 Ultra benchmarks is unbelievable. It is not easy to interconnect two of the most powerful chips and make a beast come out of it. Apple call this interconnection technology an "Ultra Fusion," and it appears to enable apple silicon to reach an unprecedented level of performance; Apple may introduce this chipset in Mac Desktop, which includes Mac mini and Mac pro because only mac desktop could hold the power of these new M1 chips.
Specification Of M1 Ultra Chipset:-
Here's what you all know about that M1 Ultra is the most powerful chipset of all time now; let's see the specifications that make it robust.
20-core CPU and 64-core GPU, the most ever on an Apple chip
114 billion transistors, over 7x more than on M1
Supports up to 128GB unified memory (RAM)
32-core Neural Engine
Apple claims M1 Ultra delivers faster performance than the highest-end discrete GPUs (like the Nvidia GeForce RTX 3090) while using up to 200W less power.
Apple claims the Ultra can manage up to 14 ProRes streams simultaneously for video pros.
The M1 Ultra is expected to debut in Mac studio, Apple's latest high–end desktop; However, the price of a desktop starts from $1,999. To get one with M1 Ultra, the price rises higher to approximately double the average price, $3,999. You can also pre-book one from apple's website.