Outdoor spaces are a great way to have gatherings and interactions in a semi-open set-up. A well-designed outdoor space always has the right balance between its hardscapes and soft capes. At the same time, a mixture of different types of lights plays a vital role in making these spaces more functional and attractive.
While making a garden lighting design, the primitive objective is to accentuate the features and lighting up the pathways for safe navigation.
An outdoor living space with the right type of lights can turn into an active 'hangout' space for the user.
Here is the list of 10 Outdoor lighting ideas that can make your gardens or patio spaces more habitable as well as enjoyable. 
Pathway Lighting
Walkways and pathways are not just a guiding way to reach a location within your outdoors, they also help in adding aesthetical value to the entire space. These trails act as experiential space.
Low raised lights on both sides of the pathways placed on an appropriate illuminance distance can create a magical effect. Edge lighting, Solar lanterns, lamps can be a good option. The advantage of having solar lighting can be that they do not need electric wires, which makes it easy to use and operate.
Step Lighting
Steps within an outdoor space can be risky if they not well-lit. If your landscape areas have these, it is necessary to keep them well-lit.
Recessed lights or under tread lighting using LED strip lights can light up each landing distinctively. Stepped lighting can also have motion sensors.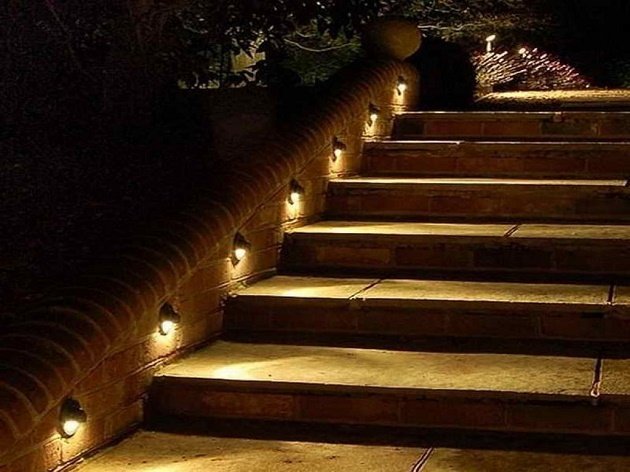 Feature lighting
Plants and greens are an important feature of an outdoor landscaped space. Adjustable spotlights can be the best way to accentuate the greens during the evenings. 
Small well-lights used for low raised shrubs and planters, Edge lights to border the lawns and low walls. If you have tall trees in your backyards then you can use festoon lights to hang them from the branches, this can make the zone usable and aesthetically attractive.
If you have any arches or sculptures, then accent lights can be installed to create a sense of intrigue. 
Hardscape lighting
Hardscapes play a vital role in connecting spaces. Stacked stone walls, water features, garden posts, fencing, retaining walls, bench seating, all come under it. The best way to accentuate these spaces can be through accent lights or ground lights.
Uplights and downlights provide visibility. They can also be used on wall textures or pillars to highlight the materials.
Pool Lighting
Pool lighting is mainly concerned with the safety factors over its aestheticism. It is also centric towards creating an ambience. The walkways and steps can be well-lit by recessed or ground lights. The pool can be lit by underwater lighting with layered lights to create a dynamic look. Fairy lights or string lights can be used on nearby trees to light these spaces.
Planter lights
These are an innovation available in varied colours and sizes with LEDs. They are waterproof as well. They are an attractive element to make your garden glow in their ethereal look and finish.
Chandelier Lights
They are beautiful and functional decoration elements. They can help in illuminating a larger radius of space. Dining areas or congregation spaces can have Chandelier lights as a central feature piece
Courtyard Lighting
Courtyards are open to sky spaces; the main objective here is to enhance the sky at night for a starry effect. These spaces need to lit adequately. Overhead string lights or festoon lights hung on tree branches within a courtyard can enhance the beauty of that space. For more illumination, uplights installed on the exterior walls can be the best option.
Deck Lighting
Just like steps deck too need to be well- illuminated to avoid falls especially when guests are around. They are commonly used spaces in the evenings, and thus, it's vital to keep them illuminated.
The approach path or deck rails need to have lights to navigate. Here LED lights can be sued to indicate the area for the deck and also make it distinctive. Wall lighting can be done in the form of scones or bulkheads to increase visibility. Risers and steps can also have LED rope lights running to allows a better visual quality to space. Plants and shrubs can have spotlights to make the space quality more dynamic.
Lights can also be placed on the underfoot of the walkways to allow a less cluttered set-up.
Dining or Sit-outs lighting
These areas act as highlights in the entire design as they are an actively used space. All the steps and trails end up in a congregation space like this. Thus, there is a need to make these areas distinctive and easily visible without being too harsh for the eye.
An optimal level of lighting with the use of portable lights such as lanterns can beautify a sit-out space. Recessed spaces can have LED-wall lightings, String lights, or festoon lights to make them more attractive and interactive. 
With the right lighting elements in your garden or backyard, you can turn these outdoor spaces into an active zone of your house. Therefore, lighting design is a key feature in turning outdoors into stunning spaces filled with a lively atmosphere.