Highlights:
500-square-foot houses 3D-printed by 33- foot Vulcan II printer.
Piped out concrete mix hardens when dries and is sturdier than traditional concrete.
24 hours of several days to build two houses at the same time.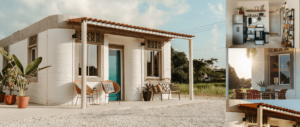 Another step forward when it comes to 3D printing in the construction industry, planning to build the first 3D- printed neighborhood ever seen. On the outskirts of a rural town in Southern Mexico, a giant, 33-foot-long 3D printer recently built its first home. 
These 500-square foot houses were finished with roofs, windows, and interiors last week, a part of a project working to end global homelessness. These homes are for housing vulnerable families on the lowest incomes (median family income is $76.50). In Tabasco, Mexico, two houses have already been built by Icon and these homes aren't just prototypes.
The initial and main plan is to build 50 new houses by the end of 2020, which will replace the conventional wooden and metal structures that were built by people for shelter. These 3D houses are capable of withstanding everything and anything that the natural world has to offer.
The families live in a seismic zone that is prone to flooding and building something that will withstand an earthquake and keep them dry during heavy rains has to be a key consideration when it comes to design. The people residing in rural Mexico are most vulnerable, and in the lowest income group, some of them are living on about an average of $3 per day.
New Story is a non-profit organization that helps families in need of shelter and has built more than 2,700 homes in South America and Mexico since 2014. And the neighborhood housing in rural Mexico was the first of all to be done with 3D printing. The nonprofit organization paired up with ICON, a construction technology company that developed the 3D- printing robotics being used on the project.
How is

3D- Printing

done?
33- foot Vulcan II printer was made by ICON, an Austin-based construction technology company and it took 3 years of prototyping to get a printer capable of this scale of the project. The Vulcan II is now building 500-square-foot houses and it's capable of building 2,000-square-foot-house according to ICON. The printer can build walls almost 9 feet high and 28 feet wide. 
The 3D-printer pipes out a concrete mix that hardens when it dries, building walls one layer at a time. It approximately takes 24 hours over several days to build two houses at the same time – two times faster than it takes New Story to build a regular construction. 24 hours to complete walls before human builders add roofs, windows, and doors.
The concrete mix is sturdier than traditional concrete and the foundation is reinforced to withstand seismic activity. The flat-roofed homes are reminiscent of a southwestern design but with curved walls. These 500-square-foot houses have two bedrooms, one bathroom, a living room, and a kitchen.
There's no price tag on the homes yet but an amount of 20-30% of their income might be considered as there should be a sense of ownership in the community. As 3D printing is cheaper and faster than traditional construction, there's an incredible potential of how it is going to change the world.
Being a 33-foot printer, it was difficult to transport it to the location with harsh weather conditions. The printer was transported in a standard shipping container.
An

Affordable

housing
About 1.6 billion people in the world don't have adequate housing (2015 Habitat for Humanity study) and no one can blame it on anyone. As we will always seem to accept that there will always be homelessness or there will always be people who don't have any access to education or water. The technology is here, and prospering towards a promising future will bring in a lot of hope in this developing world.
3d printing is not just a thought of science fiction – as we have crossed that bridge from science fiction to reality. In the near future, it will be the best hope of humanity for a housing solution that can be matched to their potential standards of quality and affordable ideas.
To know more about Architecture Technology, Stay Tuned. Till then, you can visit the Security Awareness Section for day-to-day cyberattacks and how to prevent them.
Previous Coverage: