Homelessness is a growing quandary across the world. In some countries for people without a home, the number of facilities provided to them by the government is extremely low. Lack of shelter and basic human needs like sanitation facilities, food, and a stable income leads to encroachment, the creation of slums, and temporary shelters.  Across the world are many provisional or transitional housing spaces for the homeless that are coming up every other month. Creating homes for these people is essential for their further development, and also giving them safety and security. 
One such example is the Tiny Home Village located in Alexandria Park, Downtown Los Angeles. Built by Lehrer Architects, it is a brightly colored housing complex full of tiny cabins which can house up to 200 people. The homes would act on a transitional basis, where homeless people could reside until finding or provided with a more permanent solution. Lehrer Architects are known for overtaking projects like this in the Los Angeles area, which has a growing homeless population with more than 50,000 people going homeless over financial troubles. Their work on community development has been deep-rooted in their philosophy as a firm and have worked with many communities and cultural organizations to improve quality of life via homeless shelters.
 "It is thrilling to be here using our medium to give, develop and invent form and processes to transform LA into a fully housed city," said principal architect Michael Lehrer. The Alexandria Park is the second of its kind built by the firm and precedes a much larger one that is expected to come up in the near future. 
Each cabin is 8 feet wide and accommodates 2 people at a time. The 103 prefabricated and modular structures are arranged in a grid plan where some of the modules are common restrooms and showers. Each module was pre-made out of insulated plastic and have 4 windows and a pitched roof. Inside the home, the residents were provided with 2 beds, an AC filter, lights, and electrical outlets. A communal dining area, laundry services, and pest control services are also some of the facilities present within the site. The strictly functional modules are painted in bright colors while some are left white to create a welcoming and positive vibe. Oak trees were also planted along the edges of the park, a newly added feature as compared to the previous similar housing project built by the firm. The development of the village was a necessary step in aiding the homeless to prove a permanent housing solution.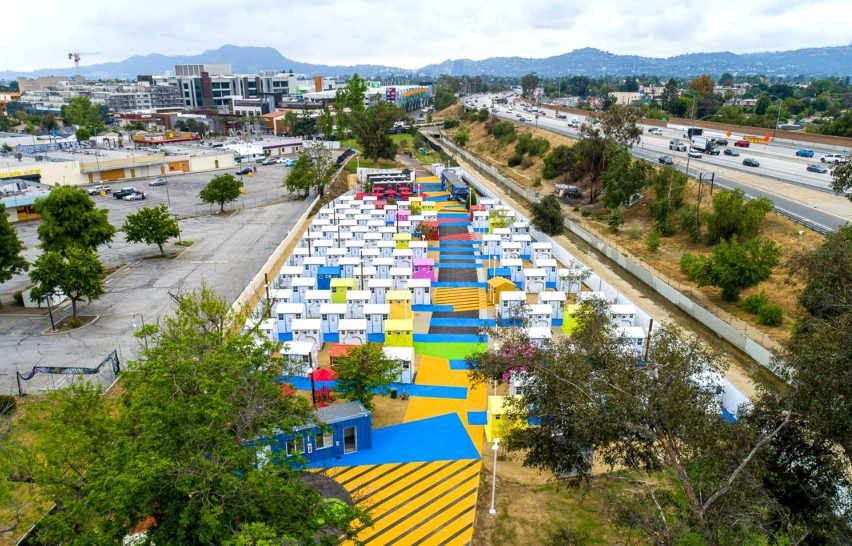 While such a project seems to be on the right track, questions have been raised about the quality of life within the modules. The size being able to accommodate only 2 people at a time and a lack of storage space saw many homeless individuals feeling doubtful about their conditions within the home. A resident of the development stated that the number of bathrooms was considerably less for the 200 residents. Some homeless people who were offered to stay raised complaints that the facility was much like a prison. While having 24-hour security was a huge advantage, residents would be checked for weapons and substances, and any items, not allowed would have to be kept in a locker outside the gate. Residents would not be provided with a key to their home but could lock the door from the inside. 
The main question that remains is, do these temporary, emergency or transitional homes actually help the homeless population?
A 2020 study showed that only 15% of residents of transitional homes were actually placed in permanent houses while one-third of the residents went back to living on the streets. The fact of the matter is, as long as there is no viable permanent housing solution, homelessness will always exist. Transitional homes do not have the facilities and functions to provide for a homeless person as a long-term solution.
Another issue stems from the fact that a large amount of funding is going into temporary housing rather than permanent housing due to the fact that temporary housing requires smaller investments and lesser time frames to complete, yielding satisfying results for those investing. To end the problems of homelessness, one must dig deeper into what factors lead to people becoming homeless in the first place. High rents, low income and lack of financial support from governments are the reasons that homelessness rates are so high. 
While transitional homes like the Alexandria Park Tiny Village may be a great solution temporarily, it is not the permanent fix. The development project however provides a conducive environment for an individual to develop safely even though they are in an apprehensive state of being.
Promoting and creating community-driven spaces that Leher Architects do so well and with so much passion, sends across the right message. This gives the people who have no place and the community hope, for a much more stable and secure future.