Facades are one of the major factors which influence the energy consumption of a structure. They act as an intermediate between the external and internal environment, providing occupants with thermal, visual and acoustic comfort. Buildings are one of the most dominant energy consumers with around 35 percent of final energy consumption.
Most of the time, facades are only associated with the aesthetics of a building without much consideration of functional or climatic aspects. The use of old construction material in facades is contributing to enormous heat ingress due to solar gain. In fact, a well-designed facade system can actually improve the energy efficiency and comfort level of people using the building. The various design principles for facades can be improved through climate analysis, building orientation, sun path analysis, day-lighting analysis, and materials selection process.
During design development, if areas with sun glare and shadow are taken care of, overall energy efficiency would automatically reach a new level of sustainable development.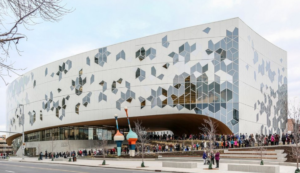 Various innovative technologies have evolved which are responsive to different climatic conditions and target the unique needs of sustainable buildings in different climatic zones. In the future, climate-responsive facade systems of high performance will be designed to intelligently interact with HVAC and lighting systems. The facade's efficiency is significantly dependent on the building's location and orientation to the sun, as well as the materials and construction methods used in the facade. The design of high-performance buildings begins with determining the suitable form and orientation for the built structure. The use of glazing must be optimized for thermal efficiency, lighting, and solar heating. Facades are intended to regulate heat and light exchange while producing comfortable indoor environments with an overall reduction of energy load.
Extending the debate of architectural and construction advances, there are abundant terms being used in building industry such as kinetic facades, Trombe wall, solar glazed facades which aims to reduce energy efficiency and also to achieve the target of Net Zero Energy. Traditional facade solutions such as louvers and brick mesh patterns are also being integrated along with the adaptive facades. In addition, high-performance glasses with appropriate U-Value, R-Value, Solar Heat Gain Coefficient, and Visible Light Transmittance coefficient can enhance the energy efficiency.
With new advanced material and technology, contemporary architecture has taken its turn towards dynamic and static designs. These kinds of dynamic and kinetic designs help a lot in the progress of sustainable and climate-responsive architecture.
Light Projection Dynamic Facade
A built project in Cheonan, Korea has a kind of a dynamic facade based on projection lighting. The amazing strategy of backlight projection creates an optical illusion that differentiates details and resolution of the facade. The structure has straight layers of composite aluminum cladding which creates a wave-like appearance.
Algae Powered Facade
The first bio adaptive facade was built in Hamburg, Germany in 2013 by an engineering firm Arup. These microorganisms are continues supply of carbon dioxide with liquid nutrients that are transferred through a water circuit to the technical room where it is fermented in a biogas plant. The process generates renewable energy and provides a shaded environment for the occupants inside the building.
Metal Screening Panels
Eskenazi Hospital, located in Indianapolis is designed by Urbana Architecture; which features a new and improved version of the dynamic facade. Around 7000 angled metal panels are installed on the facade of the hospital. Colors of the panels keep changing from yellow to gray or vice versa as one walks around the structure. The design keeps on altering because of the dynamic panels which add beautiful aesthetics to the building.
Metal Mesh Facade
The metal mesh is a breathing facade that that reacts to heat in an environmentally responsive way. He metal sheets of the facade curls on heating which provides shaded surface and well-ventilated areas under the shell-like structure. The material is laminated with two different metals that react to sunlight differently. The thin metal panels curl up to allow sunlight and air to pass through and then closed up when the structure is cool enough to provide a comfortable environment inside the building.
Facade brings a character and personality to the building. It should be aesthetic, but it should not be just treated as a design element. It is a very essential parameter for sustainable architecture.