INTRODUCTION:-
FAR CRY NEW DAWN is a First-person shooter viewed Action-adventure set Open world game. FAR CRY NEW DAWN is the game Developed by UBISOFT MONTREAL and Published by UBISOFT. The Directors of this game are JEAN – SEBESTAIN DECANT and PATRIK METHE. This game is Produced by SEBASTIEN EBACHER and Designed by RODOLPHE RECCA.
Artist of this game is ISAAC PAPISMADO, RAPHAEL DARENT is Programmer of this game. RUSSELL LEES write the game, and composers of this game are TYLER BATES and JOHN SWIHART. FAR CRY is a series of the game which is launched by UBISOFT. DUNIA 2[1] is the Engine used in this game. The game's Initial release date is 15th February 2019. FAR CRY DAWN game can be played in various counsels which are,
1) MICROSOFT WINDOWS
2) PLAYSTATION 4
3) XBOX ONE
GAMEPLAY:-
FAR CRY NEW DAWN is an Action-adventure first-person – shooter viewed open-world environment type of game. The game is based on a story with lots of non – playing characters and can be played in Single-player and Multiplayer game mode. It also uses the map from FAR CRY 5 with some changes in it and has Reshaped lots of landscapes from FAR CRY 5. This game has also set an Open world environment where the player can explore the whole map freely by moving by foot or vehicle. This game is played offline by Single-player mode and online by Multiplayer mode.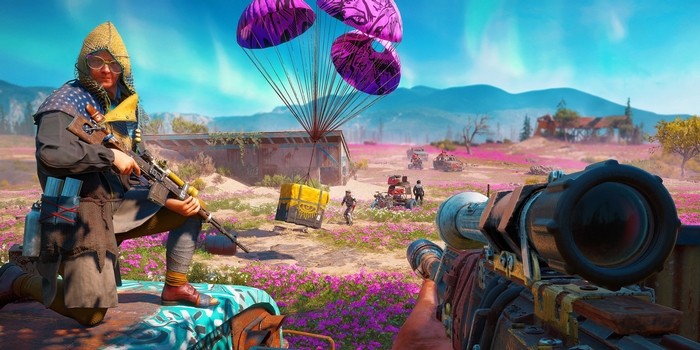 In this game, the player controls a character whose gender and race can be customized. The game FAR CRY NEW DAWN is the latest part of FAR CRY 5 with very high graphics quality and newly developed places. The player can also hire guns to survive in combat with animals and humans as we need to complete missions and increase the level of our house and our weapons. We need to attack our enemies territories and get a capture over it. In the game, we can also take the help of your friends to attack our enemies.
We can also craft our weapons and vehicles as well to increase their damage. When we are not on a mission we can embark for Treasure hunt and Players can also liberate different enemy escarpments and explore many outposts. When we discover outposts, it becomes easy for players to navigate it and reach there quickly. These outposts can be converted to manufacture Ethanol fuel or raided resources which leaves the outpost open. These things make it more interesting to play.
FAR CRY 5 has lots of arms and ammunition to defeat our enemies. Your pet dogs also help us to defeat enemies. The game doesn't contain any cheat codes or modes to play this game. If you try to enter any types of cheats our modes your Id will be banned by the game's developer.
This is an M rated game, Which means this game is a Matured type of game which contains an age limit of 18+.
The game is very amazing to play, with realistic graphics.
You can try this game, and enjoy capturing enemies territory.