Sustainability design has a wide spectrum of applicability. Beyond the typical materials like plastic and glass that are widely recycled and are getting used, there are other unconventional materials. These recycled materials help the ideology of a circular economy to function. They allow the usage of materials in new ways and possibilities. Recycling is no more seen as a cheap option but as a viable design feature.
Here are some of the architectural innovations created by the recycled materials
Capilla San Bernado by Nicolas Campodonico
Recycled material – Bricks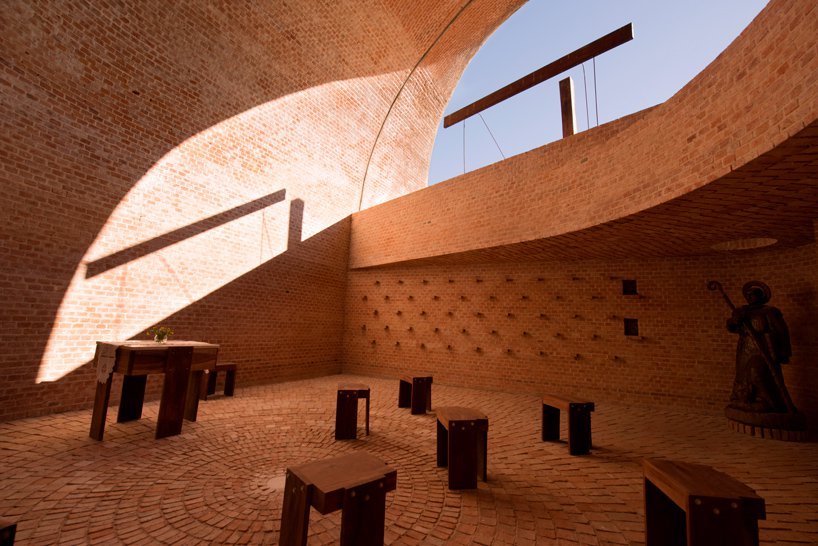 Originally occupied by a rural house with a yard, this structure was dismantled and reused. The bricks that are reused are one hundred years old. This chapel is located in the Pampa Plains in the east part of Cordoba.
2. Bimi Micro library by SHAU Bandung
Recycled material – Plastic ice-cream containers
This structure has reused 2000 ice-cream buckets to form a façade. The façade is a mix of ice cream buckets that are lined both in an opened and closed format to form an eccentric pattern. This integration of opened and closed ice cream buckets gives the indoor space an ample light and shade. The scattering of the direct sunlight allows a play of light in the indoors. As the structure is a library, light plays a vital role in its design, the usage of this innovative material to its potential allows feasibility in the indoors as well.
3. PET pavilion by Project. DWG + LOOS.FM
Recycled material – Plastic bottles
The structure has two slabs with a steel framework, the façade is structured over a double-walled transparent corrugated sheet. Over 40,000 plastic bottles are used, with the bottle caps attached to the bottle's neck giving an additional supporting system.
4. Vegan House by Block Architects
Recycled material – Windows
With a tight budget, the owner decided to make the optimum use of the old things. Instead of abandoning them, the owner has used the table, chair, window, wardrobe, and even lampshade in the making of the house. The concept was also to retain the original essence of the house. The old windows are used as the main feature of the house which creates a distinctive appearance. They are colored in bright shades to give a dynamic look to the house.
5. Carroll House by LOT-EK
Recycled material – Shipping containers
21 shipping containers are cut diagonally from top to bottom to form a monolithic volume amidst the urban fabric of Brooklyn. It is a single-family residence that uses recycled material in such a way that it retains its look and feel of its surrounding urbanscape.
6. Gallery of Furniture by CHYBIK+KRISTOF
Recycled material- Plastic seats
This striking structure has used plastic seats as a façade framework. These chairs are resistant to different weather conditions and especially the UV Light.
7. Naju Art Museum by Hyunje Joo
Recycled material- Recycled semi-transparent plastic baskets
This wall has 1500 semi-transparent baskets attached to it. The surface of the baskets minimizes the separations between the inside and outside. The material also allows light and silhouettes. The baskets are reusable even after the building would be demolished.
Recycling and upcycling materials have been one of the most popular trends in the architectural industry. Not only are these materials sustainable, but they also help in reducing the construction costs over a considerable range. Buildings are the highest consumers of energy and they also give out high levels of pollutants in the atmosphere. Excess use of concrete is a threat to the climate.
Recycling has been a part of sustainable design for many years, with its applicability ranging from micro to macro levels.  But due to the environmental habitat loss, global climate crisis, people have now started thinking beyond sustainability. The circular thinking is now gaining more importance. A circular design thinking allows multiple uses of existing resources this leads to less wastage and more profits. Recycling is a varied option that can be applied to walls, roofs, structural, paint, pavilions or temporary facilities, street furniture, playgrounds, and even paving.
Design thinkers and Architects have started embracing this system of production, resorption, and recycling where the waste again becomes a part of the production process.