The digital business landscape has proven to be vital in helping businesses to outreach a global audience. The pandemic has proven that a strong digital infrastructure is a need for every country. Every enterprise, local businesses, late boomers, entrepreneurs, etc. are shifting to digital platforms.
The construction industry has seen a major shift in its outreach and marketing ideas. Whether you're looking to publish an architectural project or market a project, the digital boom has brought the global audience closer.
In the late 90s, architecture education and referrals were centric towards a well-stocked physical library space. The shift from the physical domain to a digital platform has been slow but steady. Now with digitalization available at every step, architecture is all about easy access.
The digitalization in architecture started with magazines and portals shifting to a digital platform. For some users, these platforms were used to stay up-to-date with the latest construction news and for some for their website or blogging purposes.
Here are a few reasons how digital platforms have helped architectural transformations: –
Marketing – In a fast-paced world, architecture is all about visibility. With the access of a global audience, marketing or publicizing a project has become an eased out process. Many builders and developers are investing in having a strong marketing team, to brand their product. This method is ensuring maximum saleability.
With a large population that is dependent on digital products on a day to day basis, branding and marketing is the prime objective of every seller. Branding in the form of architectural portals, websites, pages, magazine articles, interviews, or social media posts has given the construction business a boom.
Webinars – Digital platforms are time-savers. The idea of broadening an individual's learning process by giving him access within the constraint of his own room has revolutionized the architectural industry.
There is no need to travel to an auditorium or conference halls to attend seminars, it is all about the Webinars.
Many key architects and engineers from the industry host webinars on a regular basis. Digital platforms have made learning easier and accessible.
Podcasts – Architectural online portals have started hosting podcasts as well. These podcasts discuss a wide range of subjects.
Architectural Competitions – Many online portals host architectural competitions on a regular basis. These competitions are a great source of learning and experience that add value to an individual's growth.
Interior design apps – The housing sector is rapidly growing. Many interior design apps and portals like Houzz, Curbed, etc. allow a user to envision a space and at the same time, shop home décor items.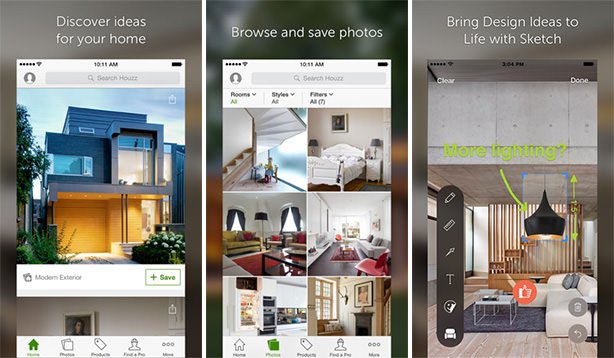 Digital Magazines – Architectural Digest, Dezeen, Wallpaper* are some of the premier digital platforms that promote the architectural and design industry. These magazines have proven to be influential and referrals for both students and professionals.
Architectural Journalism – The digital media has given a new platform for Architectural writing to emerge. With a boom in this industry, many architects are realizing a need to make the audience aware of their intent while designing a project. A digitalization of their project works as a testimonial. This has pushed the Journalism field and has given many opportunities for emerging design writers. Apoorva Bose Dutta, Paul Goldberger, etc. are some of the famous design writers and critics that have worked extensively in this field.
Architectural Workshops and Masterclass – Digital platforms have given the user an outreach to attend online workshops and masterclass hosted by some of the premier architects like Frank Gehry, Norman Foster, etc. They have brought the design world closer. Architectural firms and other local businesses are also hosting software learning classes and workshops through digital media.
Job Opportunities – Digital portals give an eased out process for seeking work opportunities.
Awareness – With the world getting closer through digital platforms, it has brought awareness within the industry. A global audience allows global know-how; Architecture is now more inclusive.