Yona Friedman used math to design

utopian cities of the future
Yona Friedman was born in 1923 in Budapest (Hungary), and after World War II he briefly lived and worked in Israel where he confronted with the rapid development of mass housing. Talking about the professional field, in 1949, Friedman started exploring the possibilities of prefabricated housing with flexible layout, and forms of temporary housing. While gaining experiences both as a construction worker and as an architect in mass housing projects in Isreal.
Architect Yona Friedman, a great visionary, left us with a lot to remember and some obituaries commemorated his pioneering work on 14 December 2019. Some of his famous works are with UNESCO on self-sufficiency, empowerment and do-it-yourself architecture. His emblematic 'Spatial City' (Ville Spatiale)- a three-dimensional grid floating above urban and natural territories and populated by mobile dwellings having an entire generation of architectural experimentation.
He is also widely known for his imaginative paper architecture visions that blended Metabolist, High-Tech, and Futurist tendencies to envision massive technological tapestries. Friedman's vision of 'mobile architecture' from 1958, focused on creating a new form of 'dwelling decided on by the occupant' that was subtly shaped by a back-and-forth relationship between structure and user in a long-term process.
Friedman's most remarkable feat was a presentation of bold visions about the future of cities, human societies and how to allocate environmental resources, with a level of detail that made it appear like realizable scenarios. His famous work, 'realizable utopias' – as he called them, moved between a sober plan and a daring dream.
Technology as Infrastructure:
Friedman's ideas about ethical interventions of technology on people's design choices can enrich the contemporary discussions about open-source architecture and how the non-architects can be empowered to design. His discussions of technology as an infrastructure set limits on permissible choices was a prophetic metaphor for design processes that are now tied with computer and computational methods.
Yona Friedman always imagined that the Spatial City has a three-dimensional grid where each cell was a building block, and inhabitants could recombine these building blocks, to produce different spatial configurations. Defining a design process of combining and configuring the discrete entities is common in contemporary discussions of digital architecture.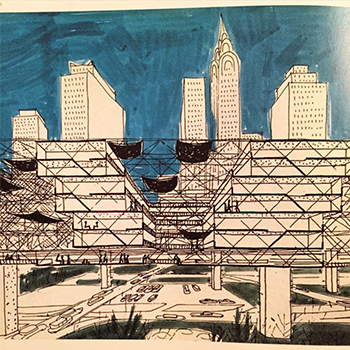 Friedman's sketches of the spatial city are a hallmark of the 1950's and 1960's modern architecture. He moved from architecture to art and expanded his ideas in illustrations, creating installations built with raw materials from paper to recycled rubbish.
Around 1964, at the peak of his fame with Spatial City, Friedman decided not to draw another line. He began to represent architecture through mathematical diagrams of discrete elements, such as rooms, and their relationships.
The graph representations of floor plans and of human activities were not new but had appeared in building science in the early 1960s. Friedman was a key in expanding their uses beyond the practical problem of designing efficient buildings and instead, used them as the basis of a new theory of scientific architecture.
Thinking outside the Box: 
Friedman's ideas kept evolving and led him beyond architecture, sphering an engagement broadened to sociology, economics, mathematics, information science, planning, visual art and film-making. In embracing the principle of the unpredictability of human behaviour, as he always sought to provide people with the knowledge and structures to determine their living environment to enhance their independence and self-reliance.
His many proposals for architectural projects are intended to inspire people within the field and out, 'to get people to think'. Friedman seeks to be of use to others to create new visions and to think outside the box & new solutions for problems that we are facing in our world. Throughout his proposals, he combines the maximum freedom of the individual with the principle of the scale of local communities and with the freedom to exercise the life of a world citizen by means of easy access to a bigger environment of the city and beyond.
Style of Expression:
Freidman tries to bring complex themes within grasp, using a very accessible style of expression. He used his drawings that can be understood at first glance and unfolded the consequences of his thinking step by step. The unpredictability of behaviour and the representation of individual choices are the keynotes in his thinking.
In the later years, Friedman worked to apply his ideas on self-construction and infrastructural architecture through work in the developing world and on humanitarian housing. He worked with United Nations and UNESCO to create disaster and self-built housing in India and across Africa, pushing his concept of Utopies Realisables, or  'feasible utopias'.
Throughout his life, he liked to play, made stories and free artwork of which the interior of his house is the ultimate expression. Freidman also developed his own hieroglyphic writing, translating the first chapter of the Bible, Genesis, in order to make it decipherable for others. He was an extraordinary visionary, and his work had a staying power moving between mathematical abstractions, algorithmic ideas and architectural proposals politically and evocatively.