BlackBeast Pro is a docking station that will deliver desktop-class performance for your laptop with no compromises. Unlimited customization possibilities will let you install your favorite graphics card and hard drive while having all the parts you need to implement your desired workflow and charging your laptop simultaneously.
"Turn your Laptop/ Smartphones/ Tablets into a Desktop Powerhouse"
To achieve the all-in-one docking solution, BlackBeast Pro has a dual controller providing tremendous power for the smooth execution of all your demanding tasks. It is the most ambitious to date and gives twice the PCI- Express lanes comparing to existing eGPU's. It also prioritizes the bandwidth to the workflow for extreme performance across the board.
BlackBeast Pro is user-upgradable, and you can choose your graphic card and hard drive according to your budget and preferences. BlackBeast Pro has been kickstarted its launch on January 7, 2020.
Features of BlackBeast Pro:
BlackBeast Pro is compatible with computers, tablets, and smartphones, which supports USB 3, USB 4, or Thunderbolt.
It also supports up to a full length, 3-slot graphic card with PCI- Express x16. It is also compatible with both PC and Mac.
BlackBeast Pro handles up to two 8K monitors vis USB-C Port and dual DisplayPort.
BlackBeast Pro is the world's first all-in-one docking station.
It is fully user-customizable and lets you install a full-length graphic card and M.2 blazing fast SSD according to your own budget and preferences.
It also offers a seamless experience– just plug and play & a new world of possibilities opens up.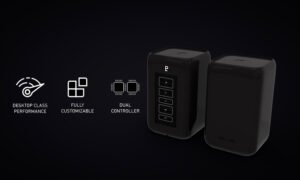 BlackBeast Pro is equipped with a dual controller for handling all the operations and being one of the most ambitious solutions available with twice the PCIe lanes compared to existing graphic solutions. BlackBeast prioritizes the bandwidth of your workflow for extreme performance across the board.
With such an extreme and tremendous performance, you are set to utilize the certainty of graphic card, 8K resolution, and 10GB ethernet to boost workflow multiple times. BlackBeast pro is equipped with 13 ports that suit your need and packs 10GB ethernet with SDXC reader to ramp up.
It also adapts easily to your workflow and transfers files up to 40Gbps. Being compact in size, you can carry it with you anywhere and get a desktop experience wherever you go.
Configurations: You can configure it with a graphic card and hard drive of your choice after the campaign. It is compatible with Thunderbolt 3 to dual DisplayPort 1.4, 0.7M Thunderbolt 3 40Gbps cable, DisplayPort to HSMI 2.0 adapter.
Material, Made to Last: BlackBeastPro is made in Norway with premium quality and international standards like FCC, CE, and Intel certification. BlackBeast Pro is built using recyclable aluminum, focusing more on the environment. The strong yet light, aluminum casing protects the cutting edge technology from external strain and dust. It has replaceable hardware that makes it last through the rapidly changing technology.
Technical Specifications:
Input and Output: 1x 3.5mm Mic line-in, 1x 3.5mm Audio out, 4x USB 3.1 Gen 2 Type-A, 1x SDXC card slot with support for UHS-II, 3x Thunderbolt 3 USB Type-C, 2x DisplayPort 1.4, 1x 10GB Ethernet.
Internal Power Supply: 750 Watts ATX-internal 100 – 240V AC, 50/60 Hz
Host Power delivery: 100 Watts via USB Type-C
Size: 7.48'/190mm (Width) x 7.48'/ 190mm (Depth) x 12.99'/ 330 mm (Height)
Weight: 3.8 kg/ 4.4 lbs
BlackBeast Pro is set to multiply the performance of your laptop while being both future proof and backward compatible. It's at an unbeatable price, unbeatable performance combined together to form a beast!
Previous Coverage: