INTRODUCTION:-
THE SIMS 4 is a life simulation video game played in single-player mode. THE SIMS 4 is the game Developed by MAXIS[A] and Published by ELECTRONIC ARTS. Producers of this game are KEVIN GIBSON, GRANT RODIEK and RYAN MICHAEL VAUGHAN. This game is Designed by ERIC HOLMBERG WEIDLER and MATT YANG. ILAN ESHKERI is a Composer of this game. Artists of this game are MAGNOS HOLLMO, SAMANTHA MIGELLI and STEVEN ROSS. DANIELLE VON MAYRHAUSER is the writer of game SIMS 4. THE SIM is the series of this game and SIMS 4 is Fourth part of this game.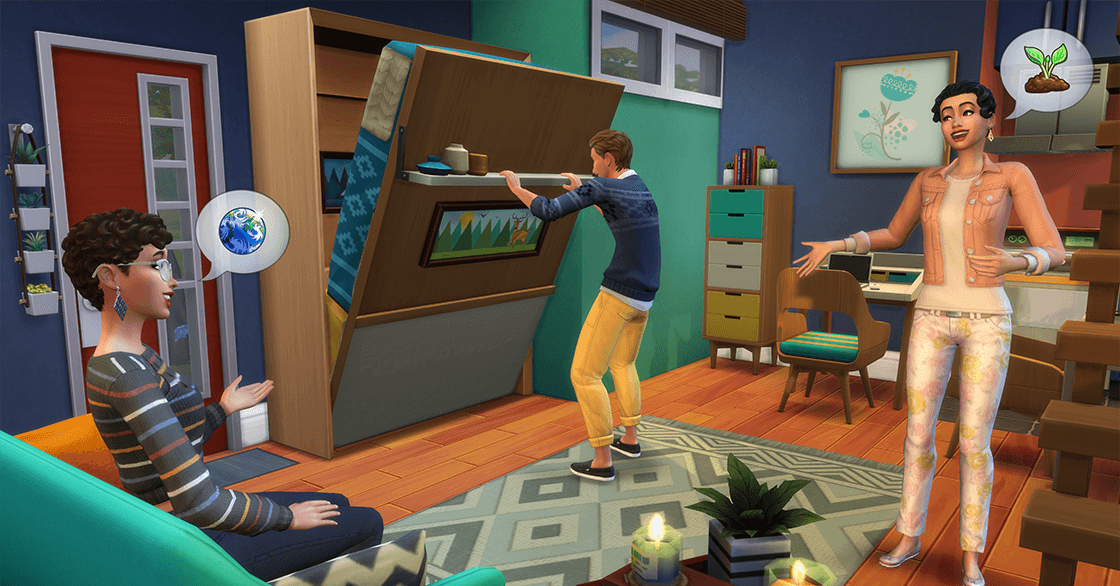 The game SIMS 4 can be played on various gaming platforms which are,
1) MICROSOFT WINDOWS
2) MacOS ( Operating System )
3) PLAYSTATION 4
4)  XBOX ONE
The launch date of the game for above gaming platforms with countries is,
1)MICROSOFT WINDOWS
– North America -> 2nd  September 2014
– Australia and Europe -> 4th September 2014
– United Kingdom -> 5th September 2014
2) MacOS
– World Wide -> 17th February 2015
3) PLAYSTATION 4, XBOX ONE
– World Wide -> 14th November 2017
GAMEPLAY:-
THE SIMS 4 is a life simulation video game played in single-player mode. This game is fully dependent on the story of the game. At the beginning of the game, the player needs to create his own SIM and start playing the game with that character. After some time we need to also make our own dream house with money used in the game named as SIMOLEONS. Then the player needs to create his own family and last long it for The generations and this is how the game gets completed.
The game can be played easily by using the following steps,
1) CREATE A SIM:-
SIM is known as a game which will be controlled by us. While creating a SIM, The player can manipulate any body part by just clicking, dragging and pulling by mouse. We need to first create a body structure of our SIM which includes FACE, ABDOMEN, CHEST, LEGS, ARMS, and FEET. After arranging them you can work on their fitness, body shape and colour. After adding body size and colour you can fill in their face with EYES, NOSE, MOUTH, EARS, EYEBROW, MUSTACHE, BEARD, HAIR and more. The player can create SIM in both the genders male and female as well. Selections of Premade designs of SIMS are available to choose in the game. In the game, the life of SIM is divided into seven stages which are,
1) BABY
2) TODDLER
3) CHILD
4) TEENAGER
5) YOUNG ADULT
6) ADULT
7) ELDER
2) BUILDING MODE:-
BUILDING MODE includes building your own House and Landscapes as well. we can make our dream house in this game. The player needs to build his own house as he wants on a plot given to it. First, we need to make an Architecture of the house and then start building it. Starting with Foundation and ending with Finishing touches and the house gets completed. Making a house is not easy in this game, we need to keep an eye on the design of the house with its shape and size. For making houses we need lots of SIMOLEONS which is the money used in games.
3) DEVELOPING LIFE:-
In the game, we need to make our own family in the game and last long it for ten generations. Developing life in this game is not an easy task. To develop life we need to make our family members and keep them happy. We need to keep our family safe from any kind of problems and face every challenge which is attacking us. Like this you can complete the game very easily. The game is based on real-life which we live and face challenges
This game is very amazing to play
One should try this game and make his dream come true in this game.