There's nothing satisfying as growing your own fresh flowers, fruits and vegetables in your backyard or organic farm. Fortunately, when you spend most of your day besides a computer, it's a change that majorly focuses on spending some time outdoors, working with your hands and feeling physically connected to Nature. Although a garden can be a lot of work, but homegrown veggies taste superior to anything you buy at the supermarket.
It's really unfortunate that urban developments nowadays lack the place of the yard to plant our own garden or even a sunny balcony for a container garden. Vacant lands are always filled with unusual debris and weeds, turning that land into an urban gardening space can not only give an advantage to the residents but also introduce interactions through it.
So, What are Community Gardens?
By definition, a community garden is a shared, semi-public space where people from the surroundings share the work and harvest for the betterment of the community, of growing fruits, flowers and vegetables or even livestock. It is the most sustainable and efficient solution when followed and maintained. One of the biggest benefits of a community garden is creating a culture of self-sustainability.
These community gardens have numerous benefits for the people as well as the environment. The gardens create a sense of community among the neighbors who have been disconnected from each other. These gardens also create opportunities for providing healthy options in neighborhoods. Environmental benefits increase the pollinators' plants on improving the conditions for bees and other endangered pollinators.
People working in the garden also benefit from exercise and sunrise, as well as therapeutic benefits. Weeding a garden is particularly effective in stress relief and provides mental health benefits to participants. Learning about new ways and technology to grow plants, is the best condition to help them thrive and provide mental and intellectual stimulation. In a low-income neighborhood, these gardens may save enough on groceries to provide for other household needs.
Benefits of Community Gardens:
Beautifying cities: When urban gardeners take over the vacant land, it turns the lots with urban greens and vibrant greens improving the quality of life of the neighborhood. Having community gardens also increases the property values in the surrounding areas.
Fresh Produce: Many urban neighborhoods have high money for fresh fruits and vegetables, these gardens whereas provide fresh, nutritious produce for many families who couldn't otherwise afford it, improving the diet and overall health.
Healthy lifestyle: Urban gardening gives city dwellers a chance to enjoy the fresh air and healthy outdoor exercise with nutritious food.
Cleaner environment: Plants in the community garden add oxygen to the air and helps in reducing air pollutions. Furthermore, many community gardens also take part in composting, recycling plant waste like leaves and tree trimmings into useful fertilizer.
Stronger Communities: Sharing a community garden gives people a chance to connect with their neighbors and feel more personally invested in the places where they live.
Educational Opportunities: Working in a community garden is a good way for kids to learn about where the food comes and gain a basic introduction for environmental issues, work skills.
Spaces that can be used for producing your food:
Public areas or Vacant lands
Roofing of buildings and houses.
Balconies, backyards
Raised beds in your lobbies
Vases
Hydroponic farms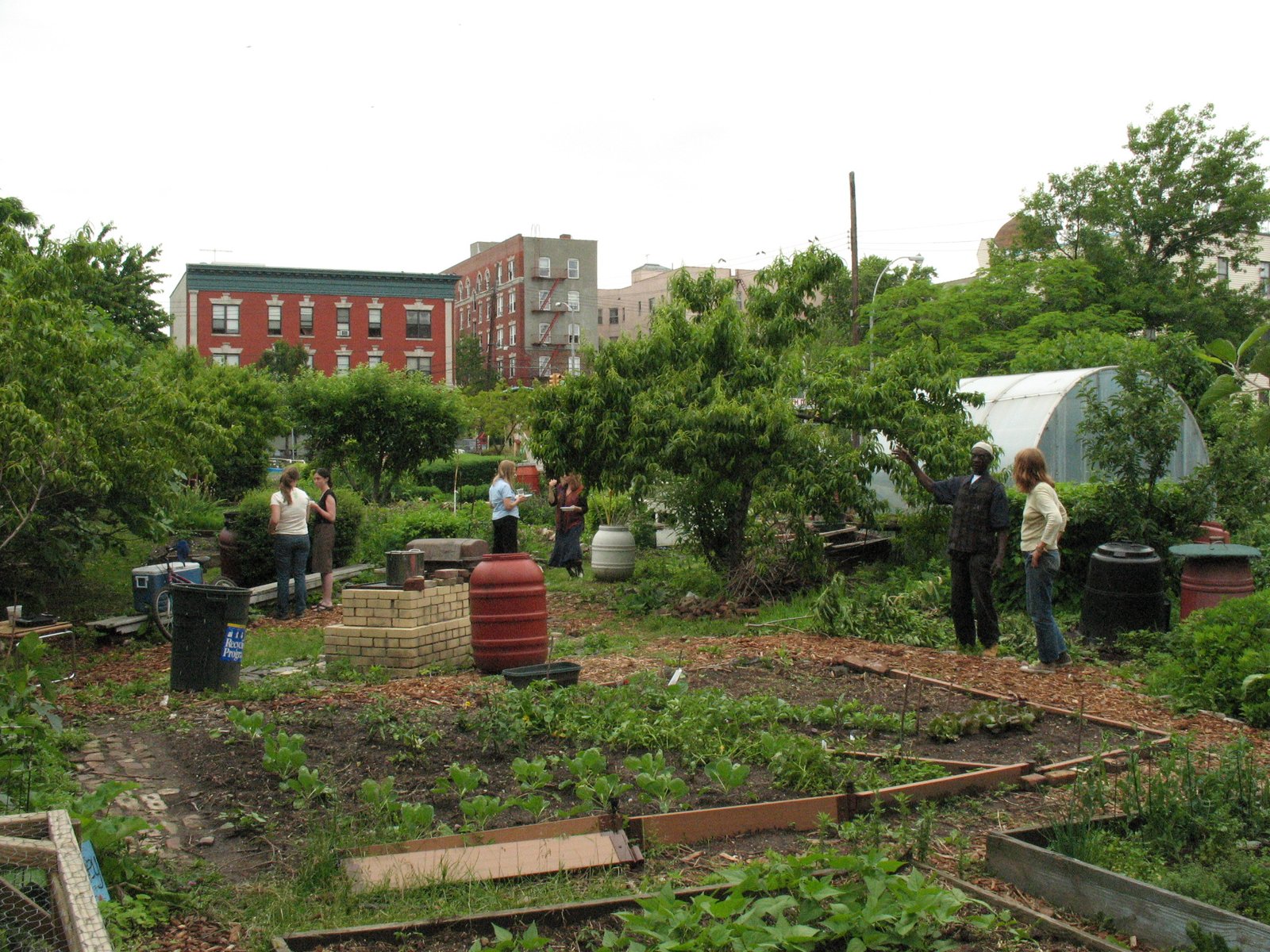 How to Start Your Community Garden?
Talk to your neighbors: Talk to people living in your neighborhood and surroundings and find out their opinion about the community gardens. Discuss about what the garden would serve, how is it going to benefit you and your surroundings in affordability, environmentally and healthy-wise. Talk about how do people need their garden to be, a single space that everyone manages together, or create separate plots for individuals in close vicinity. How will be the garden manageable in terms of particular jobs, funding – basically generate a complete plan.
Identify your resources: Figure out what resources your city or town offers, like local municipal water connections, gardening clubs, funding, etc.
Find a site: This doesn't require any expertise and is one of the important steps for planning a community garden. You can look for spaces/lots that: is not being used by anyone or for anything else, gets plenty of sunshine, is relatively flat and has a source of water, doesn't contain any large, heavy pieces of debris and importantly is close to your neighborhood.
Plant your garden: Measure the site and draw out a simple scale map of the demarcated plots for gardening fruits, flowers, and vegetables. You can also plant out the locations of different components like garden beds, paths, compost bin, shed for storing tools, spots to hook up water hoses, and even fences around the garden.
Develop a budget: Once you have followed all the above four points, it's time for figuring out the cost management. Even if the labor is by volunteers, you still got to pay for the lease of land, to buy seeds, tools, fertilizers, compost, and other garden needs. The best way to do this is a yearly membership.
Establish the rules: Before you can actually start gardening, you need to set up some rules for the members and know exactly what's expected of them. Rules like funding (annually or monthly and who needs to collect them), membership (how will be the plots be assigned and whether you want all gardeners to meet on regular basis), hours or garden (what hours should the garden be open or locked if it has a gate), maintenance (whether to share tools or bring your own, who will do weeding, clean paths, and lawns)
Start Gardening: Here you are, now that you have funds in hand, site preparation, and the rules laid out, your community garden is ready to be cultivated. Once your garden is up and running, spread the word to more communities and insist on starting the venture. Make sure all the gardeners know their part, keep them updated via emails, WhatsApp group, etc.
A community garden project is a social activity and definitely is going to benefit everyone that is part of the garden. It can take time to get everything in place or even after sowing your seeds, but the wait is worthwhile.
To know more about Architecture Technology, Stay Tuned. 
Previous Coverage: