'Practice what you preach', this saying has been a disciple for the Miller Hull Studio.
The studio is an architecture, urban, planning, and interior design firm based in Seattle and San Diego. Their work extends from creating eccentric and environmentally sound buildings by focusing on their regenerative and inclusive future. Their work extends from mixed-use to civic, commercial, institutional, residential, hospitality, and cultural infrastructure.
Due to the firm's architectural beliefs in sustainability, they decided to make their studios green in design. The firm has achieved a Petal Certification for their Seattle studio in 2017 which covers the points of Place, Material, Equity, and Beauty. With a further step up, the San Diego Studio has been able to achieve the Petal certification under the fourth version of Living Building Challenge with an addition of Health and Happiness petals too.
What is the Living Building Challenge (LBC)?
LBC is an initiative that focuses on the effort and impact of a building. It mainly focuses on the regenerative aspects of a design which is a generic factor planned such that it can be attained by everyone, despite their site and surrounding conditions.
What is Petal Certification?
It falls under the LBC (Living Building Challenge) program. It is awarded to projects that fall under at least 3 criteria out of 7 which are Place, Water, Energy, Health, happiness, Materials, Equity, and Beauty. Out of these 7, the basic one criteria should be Energy, Water, or Materials.
The Miller Hull Studio received 6 out of 7 petals. The design has been a collaborative of PAE Engineers, DPR Construction, Apex Mechanical Systems, A.B. Court & Associates, and Ickler Electric.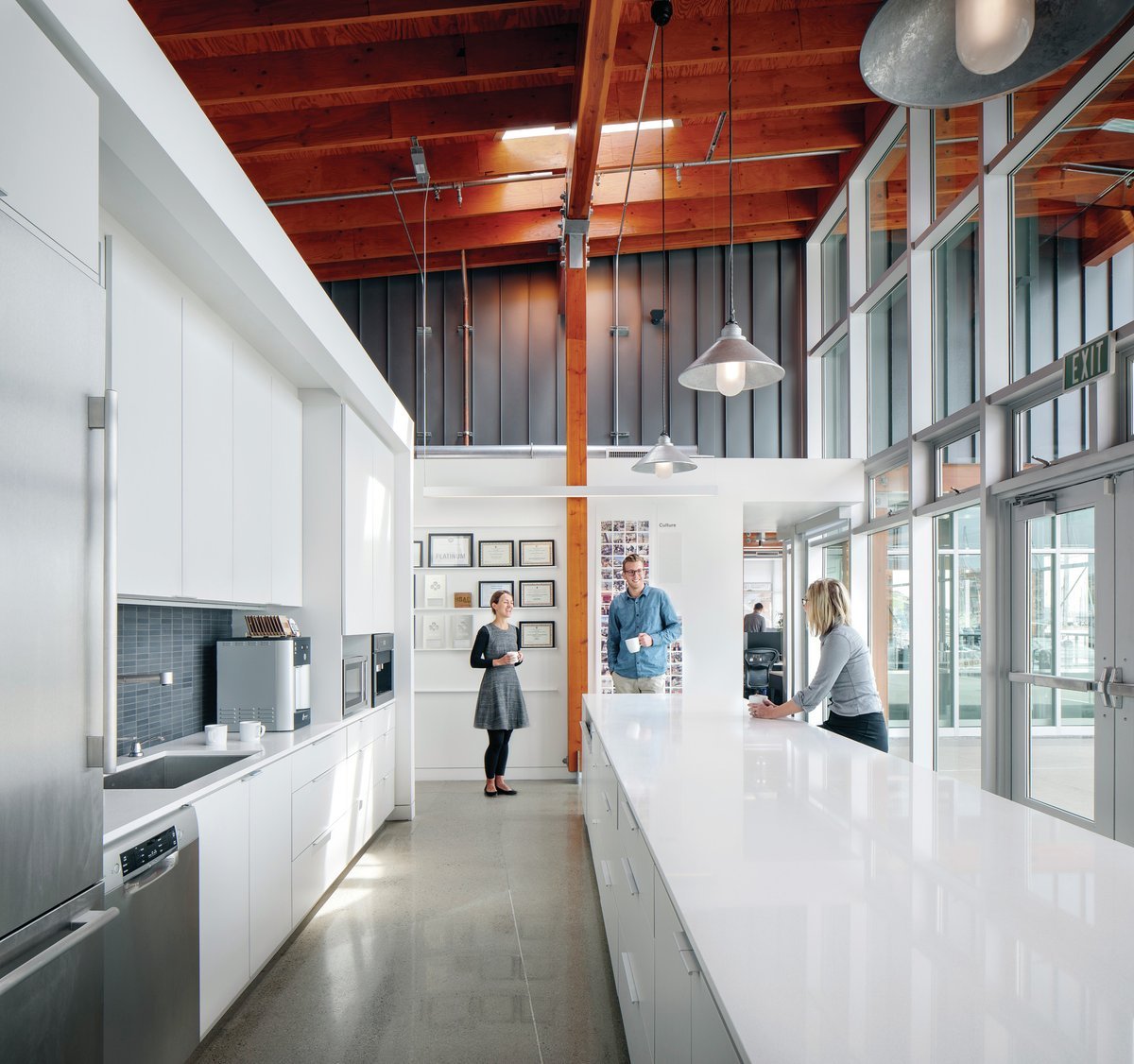 Here are the design features that helped Miller Hull studio to get certified: –
24 kW PV array to the roof systems which makes the building self-sustained.
Battery backup system to achieve Net Zero Energy.
Access to ample daylight and fresh air allowing the interior spaces to be ventilated at all times.
Inner environment comfort by sustainable methods.
Eliminating the use of harmful chemicals listed in the Living Building Challenge Red List.
Usage of regional materials that in turn made the structure both sustainable and cost-effective.
Use of certified wood by Forest Stewardship Council.
Open Studio atmosphere to have a healthy and communal atmosphere within the studio which allows interactions and learning.
The design is making use of many salvaged materials that were locally available on and off-site both. Salvaged wood floors and plywood.
Reuse as many materials as possible such as the ductwork, window panes, doors, wires, etc.
Minimum use of gypsum boards to keep the carbon footprint low.
Manually operated full-height windows for natural air and ventilation.
"I'm proud of the commitment Miller Hull has made beyond their project work – to be accountable for their own operations and now have all of their own offices are Living Building Challenge certified," said Miller Hull Living Building Challenge Services Director Chris Hellstern. "It's a significant achievement for the building industry because it continues to show the Living Buildings can be built in any climate with any building type and in this case, a commercial tenant improvement."
Miller Hull studio has received several awards, regional and national both including Architect 50's Top Firm for Sustainability and AIA National Firm Award.